EQUIFAX BREACH
As you may be aware, Equifax experienced a rather large security breach impacting approximately 143 million U.S. consumers. There is a website, www.equifaxsecurity2017.com where you can check to see if your information has been compromised. As always, please be sure to read all disclosures and terms of use associated before enrolling in the protection plan.
Scams and Fraud
Unfortunately in today's world, it is more than likely that you or someone you know will be targeted in a scam. Being aware of the various scams out there is the best way to avoid them! We have created a short list of "Red flags" to help you avoid becoming a victim of fraud. You may also want to read the FDIC's article, "10 Scams Targeting Bank Customers" for more information. Remember, these are just a sample of scams, there are many variations out there. Please feel free to call your bank or local law enforcement if you feel you are being targeted in a scam or if you have any further questions.
---
If you want to customize your debit card PIN you can call 877-265-9594.
---
Download your HSA Contribution form here!
---
MOBILE BANKING with MOBILE CAPTURE
We are very excited to offer this new product and would like to take a little time to educate our customers on how to use this new service. Simply search for "The Wanda State Bank" in your store and download it. If you have already enrolled in online banking all you have to do after downloading it is simply complete the log in process using the app! It will then store your phone or tablet as an authorized device for your account. (If you have not opened an online account, you will have to call us to activate it.) The App does not currently offer bill pay, but it will be added very soon!
MOBILE CAPTURE
This is a great way to deposit your checks to your checking account without having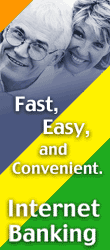 to mail them, or deliver them yourself. Just follow the prompts on your phone. Make sure you properly endorse the check. We REQUIRE these checks to be endorsed as follows: Mobile Deposit Only-followed by your signature. Please retain all checks deposited this way for 60 days. As you can see the process is quite easy. Please make sure your screen prompts you that your deposit has been accepted for review. If there is a problem during this process the deposit will be immediately denied. If you want to make sure we can reach you immediately, this may be a good time for you to let us know your cell number!! You should also note the cut off time for mobile deposit will be 2:00!!! These deposits will not post "real time" and will not be viewable online until we have finished our business for the day and posted them to your account.
The FDIC has a very informative article regarding mobile banking. Check it out by clicking here!
---
CHECK THIS OUT!
Are you unsure if you are FDIC insured? The FDIC has an online tool to help you determine if you are covered. Their site is https://www2.fdic.gov/EDIE/ . Simply click on the green box that says Electronic Deposit Insurance Estimator (EDIE Estimator Tab), enter your information carefully and print your own personalized report.
---
iHELP Private Student Loans for The Wanda State Bank
There are many ways to pay the cost of college. After considering federal loans, scholarships and grants you may still have a gap to pay your total college costs. The Wanda State Bank works with iHELP to provide an attractive private student loan. Applying for an iHELP Loan is easy and takes as little as 15 minutes.
---
---
Enrolled in online banking?
Are you already signed up for online access? Have you signed up for our paperless estatements yet? Simply by filling out a short form and returning it to us, you will no longer have to wait by your mailbox wondering where your statement is. Online estatements replace paper statements and look EXACTLY like the ones we mail you. Simply go to our online services page and print, complete and return the forms needed from the eStatements section. It's so easy! Give it a try, if you don't like it we can always switch you back!
Are you aware of some of the advanced options?
Set up your own account alerts! There are many options available to you under the accounts tab. Simply go to account alerts and choose one or multiple different options including, Checking/savings balance alerts, check cleared alerts, and loan accounts just to name a few! These can be customized and alerts can be sent to your email address or your phone as a text message.
---
BENEFITS OF ON-LINE BANKING

Established customers can sign up for on-line banking and receive the following benefits:

If you are not already a valued customer stop in to open an account today and start receiving the service you deserve!
---
To be directed to our Privacy Notice page, please click here.